Cat Shows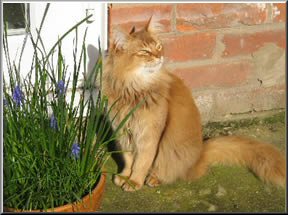 There are shows held most weekends, these are listed in publications such as Our Cats, Your Cat, Cat World or from the GCCF Office or their Website.
It is advisable to visit a show and talk to other exhibitors before you decide to show your cat, most breeders will be only too happy to advise and show equipment can be bought at shows and usually include a blanket, vet bed, water and food bowl and litter tray, these are all white so that no cat can be distinguished from another. The public are normally admitted in the middle of the day until closing time at about 5pm. You will not be allowed to remove your cat before the Show closes, if you do you may forfeit any prizes won.
The judges move round the hall with their stewards, taking the cats out of their pens one at a time to be judged; you will recognise them by their badges and white coats. Judges do not normally speak to the exhibitors or the public until they have finished their judging. The results are written into a book and slips from the books appear on the results board later in the day; you will see the boards surrounded by exhibitors excitedly searching for their cats' placings.
The pens are in rows usually starting with the Long Hairs in pen number 1 and ending with the non pedigree cats. The show will have a catalogue which will give you information about the cats, their breeds and colours and will also have advertisements put in by the breeders. Many shows have notices or leaflets to help you find your way around.
There is one very special show held at the NEC, Birmingham each year in November where cats that have won the top prizes at other shows can compete for the title of 'Supreme'; this is the Supreme Cat Show. Here the cats will all be exhibited in large decorated pens and will be taken to special rings to be judged. If you are lucky the judge may give a commentary on the judging while you are watching. This is one of the few shows where your artistic flair can be let loose and you may decorate the pen with curtains and a "theme".
Applying to enter a Show
If you have decided that your cat will enjoy a show then you need to apply to enter well in advance, this could be as much as 3 months before the show.
You need to send a 34p Stamped SAE 9" x 6" (A5) envelope to the Show Manager (as advertised in Our Cats or contact the GCCF). When the schedule arrives ensure you read the rules carefully, if you are at all concerned, contact another breeder or the Show Manager.
You need to check the GCCF registration or transfer certificate of your cat - if you find the pink slip you were given by your cat's breeder is headed TRANSFER APPLICATION this means that the cat is not registered in your name and you must complete the form and send it back to the GCCF with the transfer fee as soon as possible - no later than 21 days before the show. If you have no GCCF paperwork contact the person you bought the cat from and if you get no help from them telephone the GCCF office for advice. You will see that the entry form asks for information about you and your cat. First fill in your name and address - the Exhibitor must be the registered owner of the cat 21 days before show day. It may be you or you and a partner - you must fill in the details of both people if it is jointly owned. Next the details of your cat are needed and these should be copied from your GCCF papers:
Registration Number - Cat's Name - Breed number - Sex - Date of birth
Name of sire - Name of dam - Name of breeder - Classes to be entered.
If your cat has not been registered or the certificate has not been returned from GCCF put RAF or TAF (reg/transfer applied for) in place of the registration number and make sure you do apply!
Decide on the correct classes - if you cat is a neuter you can only enter neuter classes and you should enter its sex as MN or FN. If in doubt about classes check. Next work out your entry fees, make out your cheque and make sure that it is signed and correct. On the form you will find a declaration that you and your partner, if the cat is jointly owned, must read and sign. Finally double check everything before you post it, if your form is incorrect it could lead to disqualification. The cost to enter is approximately £25 and includes entry to the Open Class and a further 3 Miscellaneous Classes. Once you have completed the form and sent it off and then subsequently withdraw your cat after the application closure date, you cannot be refunded your entrance fee.
Preparation for the Show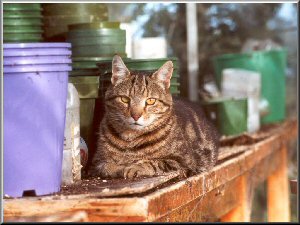 The most important thing to decide is if your cat will enjoy the show because shows are meant to be enjoyed by the cats as well as their owners. You can prepare by ensuring your cat is used to travelling and is not upset by journeys. Before the show have your travelling basket ready with food, water, spare blankets in case of accidents, litter tray and litter and most importantly any documentation required, this includes an up to date vaccination certificate for flu and enteritis, failure to provide such a certificate on the day could result in disqualification, but in most cases will mean that you have to produce the certificate no later than 7 days after the show. Do remember to clean ears and eyes and trim the sharp tips of the claws with proper clippers. Do not cut anything but the tip or you will damage the skin and make your cat bleed.
Finally, double check the rules in the schedule.
Vetting In
Aim to arrive around 8.30 am, you will join a queue for "Vetting In", when you arrive at the table you will be given an envelope which will usually contain:
Pen No. and Classes Entered (on outside of envelope, ensure you retain this for claiming Rosettes)
Exhibitors Pass
You will then be directed to a Vet who will ensure your cat is fit and healthy and able to be shown. Be aware if your cat should have fleas, ear mites or any scratch or patch of fur missing (could indicate ring worm), then your cat will be excluded.
The Show
Once you have passed Vetting In, you need to find your Pen - there are usually maps around the hall. Ensure you disinfect the Pen and place the cat's Vet bed, blanket, litter tray and most importantly water bowl in the pen. Place your cat in the pen and ensure you then vacate the hall when the Show Manager directs, usually about 10.00 am. Always check your pen before you leave the hall to make sure it is clean and tidy. You will not be allowed back in the hall until about 12.30 pm, when you return you will be able to put one toy in the pen and you can then put a food bowl and food in the pen. The show usually finishes around 5.00 pm.
You may want to pass the time talking to other breeders, or just congregate around the show board noting the results in your catalogue. Hopefully you and the cat will thoroughly enjoy the day no matter what the result!
Once you get home make sure your cat is comfortable, it will have been a hard day for you all. It is wise not to allow all your cats to mix with the show cat for a few days until any danger of infection is past.